Want to know what you'd look like in the world of Stray Curls Comics? Just send me 2-3 photos of yourself (along with a description of what you'd like to wear) and let the magic happen in my Drawing Cave.
Gift your mother a lovely custom portrait of you and her, this Mother's Day! This is the perfect gift for a mother from her daughter.
4 Panel Custom Comic Strip
Want a custom comic strip? Easy peasy! All I will require is a dialogue and description for each panel and of course a description/photos of the characters in the strip.
Get a completely illustrated logo to create a unique Brand Identity and stand out professionally from the norm.
Put a face to your Business by getting a custom-made professional Business Card for yourself! You also get a FREE avatar (in a separate file) to use wherever you please!
Want a sweet customized pet portrait of your beloved pooch/kitty/bunny? Let me draw your little buddy for you.
Get this adorable customized couple portrait of you and your partner for a steal! Completely customizable size and text.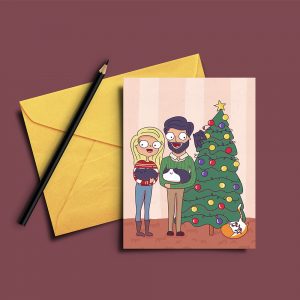 Custom Christmas Postcard 5″x7″
Instead of a boring ol' christmas card, spice up these holidays with a customized portrait of you and your family.
A beautiful card for a loved one (drawn with your heavenly description). This card comes with a pattern inside as well as personalized text by you for your special someone.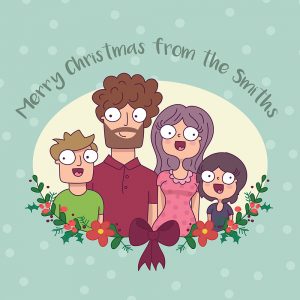 Spread the joy festivity with this happy family Christmas Portrait.
This is your special day, love. Brighten it up with this customized Save The Date card.
$85 for 1 character with background (+15 for additional character)
A Custom Illustration encompassing characters and backgrounds of your choosing.
$100 for 4 +$25 for every additional person
Capture your sweet memories with friends in this rad comic style portrait!
Please fill the form below to submit an inquiry.
The Process
1. Kindly fill the form on the right so I can get to know your requirement.
2. If what you require, is not in the list above, just fill in with the description of what you'd like me to make instead. I take custom orders of any kind.
3. I will reply within 5 days about the details of the project and the cost.
4. If you stay outside India, I will send you a PayPal Invoice. Upon clearing the invoice, you will be asked to send 2-3 photos of the person/pet to my email me@straycurls.com
(For people residing within India, other modes of payment can be arranged)
5. The project will be completed within 15-20 business days depending on the nature of the project.
6. All my work is sent across digitally, however if you'd like the physical copy, I can arrange for printing and shipment from my end. Please note that this will take some time.